Supplier Maturity/MBE
DSA in partnership with Lifecycle Insights can execute an MBE Maturity Level Analysis of your Vendor Community. This analysis work is critical to enable your understanding of the work required across your supply base to assure their ability to exploit your investment in MBD/MBE and provide you a measurable return on your investment.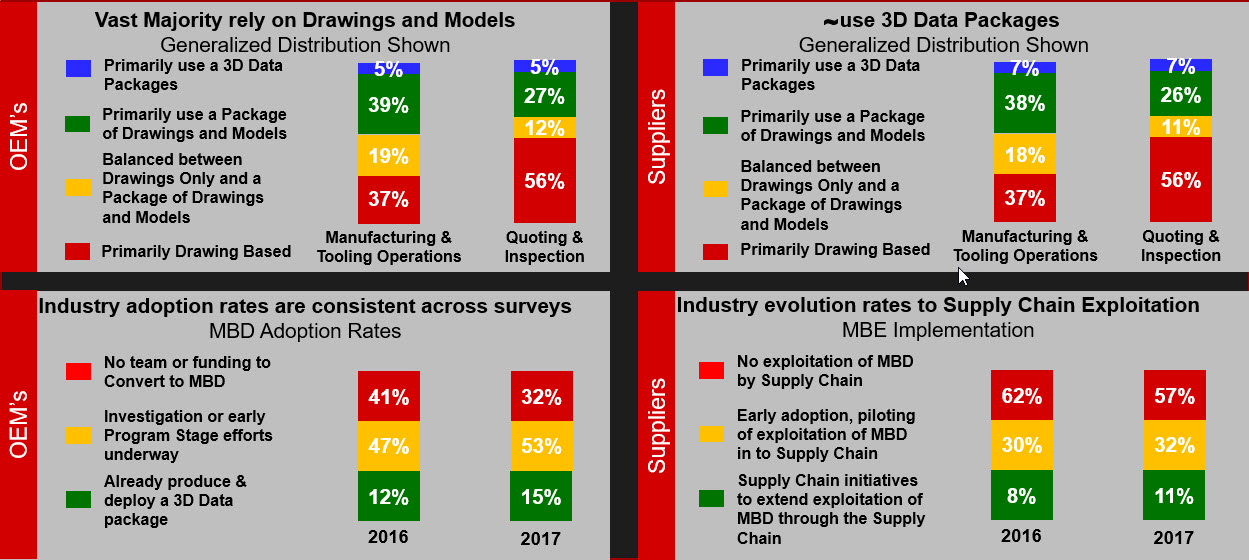 Preparing the Vendor Community for Surveying (DSA/Lifecycle Insights)
Survey Development (DSA/Lifecycle Insights)
Data Analysis (Lifecycle Insights)
Incorporation of Findings in to your MBD/MBE Roadmap (DSA)
Establish Vendor Maturation Process

How to increase Vendor Maturity to ensure their exploitation
How to get the ROI for your investment
Phase 1: Preparing the Vendor Community
Preparing your Vendor Community for Survey is critical to establishing the survey itself and getting your vendors to respond in whole. It is both an analytical and an OCM exercise.
Segregate vendor community by Part Family & Part Family complexity – Survey could vary based upon Part Family complexity
Derive survey execution plan
Work with Vendor/Supplier Management Team to establish the Vendor Communications Plan
Phase 2: Survey Development & Release
Establish Scope of Survey and Survey Goals – aligns the target audience and a mapping of draft questions to goals

Review & Adapt Survey Scope/Questions with you, our client
Development the draft survey, conduct internal reviews, adapt as required to meet established goals
Create the survey in SurveyMonkey or a google document
Support reviews of the survey (Engineering, Mfg. Engineering, Quality, Tooling Procurement. Mfg.) and modify the survey per the feedback

Final preparation of survey

Create SurveyMonkey web collectors and transmit the SurveyMonkey web collector links to you, our client

Conduct the Survey

Transmit Survey Links to targeted Vendor Base and monitor/manage Vendor Responses & Communications
Phase 3: Data Analysis
In the data analysis phase, we will execute the following tasks.
Load the survey responses

Export the aggregate survey responses and individual survey responses to a spreadsheet
Load survey responses into "Marketsight" data analysis tool

Developing on set of base findings

Develop statistical findings for each question in the survey in a Google sheet. This includes the creation of a table representing the aggregate statistics for the question and a bar chart
Add the bar charts to a Google Slides presentation

Developing two sets of cohort-based findings

Develop cross-tabbed findings for each question in the survey in a Google sheet against a cohort, which can be drawn from one of the other questions in the survey or developed based on logical conditions. This includes the creation of a table representing the aggregate statistics for the question and a bar chart
Add the bar charts to a Google Slides presentation. One chart will go on each Slide

Support three rounds of reviews of the three sets of findings

Distribute the Draft Data Analysis for Review and request for adaptations and data refinements
Collect feedback and adapt Data Analysis as requested
Release the Data Analysis findings
Phase 4: Roadmap/Strategy Update
Based upon the Survey results, we will assist you to establish a Vendor Maturation Project Portfolio and Plans. DSA will additionally assist you to run the ROI Calculations that will be attainable for each phase of the Vendor maturation Roadmap

Target Key Suppliers First Note; your most mature suppliers are key candidates to Pilot your initial Data Packages
The maturation stages and priorities will be varied depending upon several factors e.g., supplier criticality, adoption, maturity
Phase 5: Establish Vendor Maturation Process
DSA will assist you to derive a detailed execution plan to enable/drive the increases required in vendor maturity to enable the exploitation of your MBD/MBE Investments
DSA will assist your vendor Management/Global Supplier Management Team to define the data requirements and procedures necessary to ensure your supply base provides a measurable return on your investment as the increment their MBD/MBE Capability Maturity